SCS Online Tracking
You can track your shipments online now by entering the shipment airwaybill numbers in the box provided here. You may enter up to 10 airwaybill numbers, but please use a space or press "Enter" on your keyboard to separate them.
Excess Baggage service to Taiwan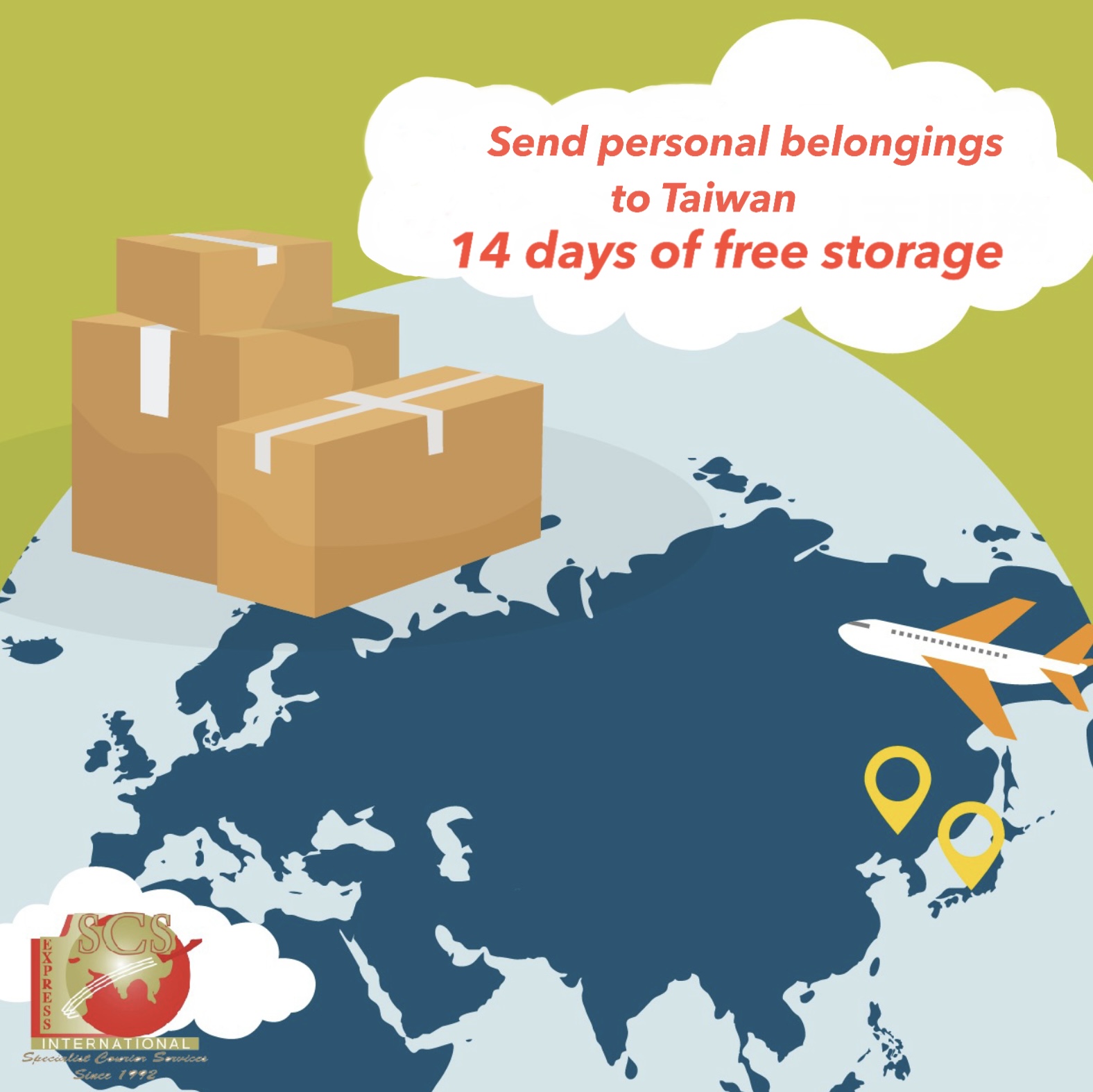 Immigrating to Taiwan and not wanting luggage to be a burden during quarantine?
SCS Express provides free luggage storage for 14 days.

When you arrive at your new address in Taiwan, we can deliver it directly to the designated address for you.
We use Excess Baggage Service to send your luggage from Hong Kong to Taiwan, which only takes 2-3 working days.
After the customer signs the authorization form, we can handle the customs clearance in Taiwan on your behalf and arrange the delivery as per your appointed day and time.

Please, immediately contact SCS to help you.

Hong Kong to Taiwan Prices Table
Region

Kilos

Prices

Taipei

0.5

$73

1.0

$100

1.5

$146

2.0

$173

2.5

$219

3.0

$246

3.5

$292

4.0

$319

4.5

$364

5.0

$392

5.1and above

$77/kg

15.1and above

$70/kg

50.1and above

$66/kg

100.1and above

$63/kg

Except for Taipei

Extra charge of $5/kg

*The above price includes declaration charge and fuel surcharge. There is no additional charge.
*Prohibited article including products containing lithium batteries, Liquid, Powders, Flammable goods
Please complete the following 4 customs clearance documents:
1. Invoice and Sample(TAIWAN USE ONLY)
2. Packing List (TAIWAN USE ONLY)
3. Letter of Authorization (TAIWAN USE ONLY)
4. Simply and Formal- Export declaration form( TAIWAN USE ONLY)
---------------------------------------------------------------
For inquiries, please call our hotline
2762 9555
or send WhatsApp to
6223 8423
Or send an email to
cs@scsexpress.com
SCS Express International Limited
Flat C, G/F., Phase 5, Hong Kong Spinners Industrial Building,
No.760-762 Cheung Sha Wan Road,
Kowloon, Hong Kong
Http:// www.scsexpress.com
--------------------------------------
Taiwan Station:
Taipei station
SCS Express International Limited
1/FL, No 481-483 Fu Shin North Road, Taipei Taiwan R.O.C
Tel: (886) 02-2546-6221
Fax:(886) 02- 2545 9126 & 02- 5245 9526